Training
The 100 "best companies" provide an average of forty-three hours of training per year to every employee.
Source: Robert Half International, Gallup Organization

Training Series

The training series are broken into modules. Each module offered includes a Power Point lecture, video or presentation, printed materials, and a Power Point interactive final test. Employees completing all courses in the series receive a certificate of completion. All modules in the series are ninety-minutes in length with a ten-minute break and a twenty-minute final discussion period.
Health Care Dining Service Workbook for Employee Training

Sample downloads
Level 1 Employee Training: click here
Level 2 The Waitstaff: click here
Workbook Sample: The Dining Experience for the Non-Dining Service Staff: click here
Lyons ReadyCare Pureely Amazing with Puree Food Enhancer
We have great training videos with the "Chef Wisdom" series and it is a fun way for staff to learn.
Free training reinforcement poster series
when you sign-up for on-site training classes!



Click here to see the posters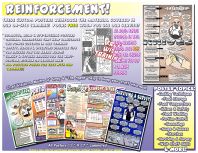 Must know details on getting through an inspection with advice and industry expertise.
Click here or on the "Surviving Inspection" CD image to see the trailer video.
Culinary Arts Series


Resources of the Culinary Institute of America and our own experienced chefs support this culinary art series. Employees completing all of our specialized courses will receive a certificate of completion and a solid foundation in the culinary arts. This will give you the marketing edge in a very competitive industry.

Modules:
Knife Skills
Treating knives with care keeping them sharp maintains safety and creates kitchen efficiency.
Care and handling of knives
Cutting and handling food
Preparation prior to meal services
Cooking Techniques

Baking
Frying
Sautéing
Grilling
Creating the Culinary Classics

White and Brown sauces
Creamed and broth soups
Preparation of dressings
Eat with your eyes, modifying the food correctly

Purees and the levels of distinction
Ground food and presentation
Spicing it up with less salt

How to season food
Creating appetizers
Produce handling
Production Tool Kit

Preparing for production
Production sheets
Production Meetings
Production Planning
Recipes and converting
Temperature retention techniques

Keys to keeping hot food hot and cold food cold

T

he starchy situation



How to handle pastas
How to get the perfect potatoes every time
The guide to perfect rice
Sanitation and food safety

Handling of eggs
Labeling and dating food
Proper storage of food
Equipment care and cleaning
Developing a "Cleaning as you go" routine
Developing a fortified food program that works

The goals and benefits of a fortified food program
Working with building block recipes
Customer Service/ Wait Staff Series

"The customer is our job, not an interruption of it." Jim Sullivan

This service series is supported by the resource Remarkable Service published by The Culinary Institute of America, the series entitled "Service that Sells" and "The Waiting Game". Our representatives bring their experience and expertise as directors in CCRC's. They also bring experience in assisted living homes, restaurants, and long-term care facilities.


Modules:

First rule - The customer is always right

Dealing with an irate customer
Making the customer happy
Basic principles of hospitality and service
First impressions
Greeting
Knowledge
Efficiency
First rule continued:

Timing
Flexibility
Consistency
Communication
Trust
Exceeding expectations
Preparation to order taking

Making that great cup of coffee
Details and more details
Why you should taste the food
Suggestive selling
Table set up and table clearing

Side duties
Pre-meal meetings

Planning for success
The art of napkin folding

Flat designs
Sculptured designs
Designs to use in glass
Style of service/ Tea in the afternoon

Special affairs set up
Theme meals set up
Buffet service
Grooming and sanitation

Always look sharp
Serving safe food
Food Safety & Sanitation Series
"Food Safety tops the list of training needs among non-commercial foodservice workers, according to the latest industry research. "

Source: Food Service Director, November 2001
"
The latest study from the Atlanta based Centers for Disease Control and Prevention
estimates that food borne bacteria causes about 76 million illnesses, 325,000 hospitalizations and 1,800 deaths annually in the United States, most of which are due to food safety mistakes."
T
he resources from Serve Safe support this training series. Our Serve Safe educators' experiences in the field bring this critical program to your business. Employees completing this series receive a certificate of completion.
Starting out with Food Safety
Cleaning and Sanitizing
Preparing, Cooking, and Serving
Purchasing, Receiving, and Storing
Ensuring Proper Personal Hygiene
Steps to Food safety
What is your sanitation program and what can you do
Egg Safety
The Highly Effective Manager Series
"Your Future Managers will come from many backgrounds , and many may start by simply "falling into" the field. but if you select those for whom "making it happen" is a real challenge, motivate them the freedom to initiate their own ideas and reward them with real responsibility ,you may find a budding Sam Walton among them."

John Lawn, Editor-in -Chief, Food Management
T
his series addresses the day-to-day challenges of the dining service director. If you have a manager whose skills need to be enhanced or who need some direction from dining service professionals, this program is the answer for you. This specialized training can be in the form of lectures or a one-on-one developmental program. The educator will meet with you to understand your expectations and requirements of your mangers training and development. Our staff will work with you and your manager in developing a comprehensive plan to guide us during the training process. We are confident that you and your manager will see immediate and continued progress.
Series includes:
Planning to win
Goal Setting
Getting organized
Understanding the Survey Process
Organizing your office
Developing job flows and routines that work
Prioritizing your work
Setting kitchen up for sanitation success
Evaluating employees
Develop an effective orientation program
Recruiting and retention
Employee orientation program training
W
e will help you customize your dining services employee orientation program. By utilizing our experience in the hospitality industry, we will help you develop a program that will welcome the new employee, introduce the continued training process, excite and motivate the employee. Our mutual goal is to develop a strong core of employees and d to significantly reduce employee turnover. We understand that employee longevity and high employee retention make a major contribution to offering quality-dining services.
Training Resources
Top quality management tools, products and systems proven to get results.
Wayne Toczek or one of Innovations Services associates have the program you and your staff need.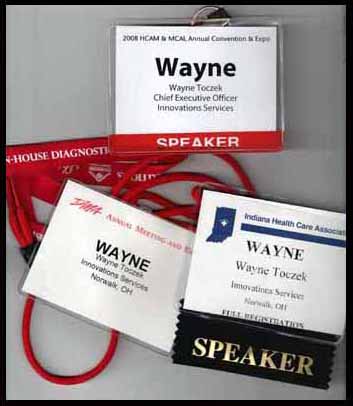 Wayne has presented for many organizations including the following:

Sysco : Cleveland 06 . Louisville KY 08.and Central Ohio 09
US Food Cincinnati
Northern Hasserot Annual Food show 08,09

Indiana Health Care Association 07
Michigan Health care Association 08
Ohio Healthcare Association 03,04 Thank you note, Thank you note
Ohio Assisted Living 05

DMA : Virginia Annual Meeting 08
DMA Mid West [Cleveland]07
DMA State of Ohio Fall Workshop 09

Legacy Healthcare 07

Cynthia Chow and Associates Annual meeting 08.,,09
Contact Innovations Services about your next event. We have the right speaker with a great topic to provide needed programming for your attendees.